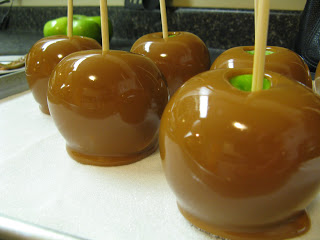 It's no secret that, from time to time, Kelli and I can have a bit of a sweet tooth. (Marin, I'm guessing, will have a sweet tooth, too, at such point as she has more teeth. She's currently at 6 and counting, with numbers 7 and 8 currently breaking through…) We'll often have a small portion of some kind of dessert a few nights a week after dinner. Usually it's cookies, or a sliver of pie, or scones, or as with one night earlier this week, some leftover corn tortillas from a taco dinner that became cinnamon-sugar tortillas for dessert. Our belief (or perhaps it's a rationalization?) is that a little dessert in moderation on a fairly regular basis prevents mega-binges that would really throw us under the dietary bus.
Even so, from time to time, we feel a little more indulgent and crave a sugar bomb. More often than not, the craving comes in the form of a caramel apple. (And with a crunchy, fresh apple underneath all that caramel, it almost feels sorta healthy…in a loaded with sugar kind of way.) Oftentimes, the Rocky Mountain Chocolate Factory – ubiquitous throughout Colorado – delivers. But for us, the creme de la creme are the caramel apples at a little candy shop in Estes Park, the gateway community on the east side of Rocky Mountain National Park about one hour north and west of us.
Lately, though, Kelli's been using our candy thermometer and a good bit of persistence to develop our own caramel apple recipe. Sure, there are plenty of recipes out on the Internet. But we wanted something that was distinctly NGNP, and which suited our tastes…just the right sweetness, just the right richness to the caramel, just the right soft-yet-firm texture.
Our (Kelli's) early attempts were a bit like Goldilocks trying the porridge of the three bears – too hot, too cold, just right. One round of caramel apples looked beautiful initially, but as the caramel cooled and set up, it became hard and brittle. On another occasion, it was too liquid, running off the sides of the apples and pooling in the tray on which they were standing. Now, we're very close. I think one more round of testing to confirm that the recipe works, and we'll be ready to share it here. Hooray! Until then, I hope today's Friday Foto makes you drool just a little bit. I know that I, for one, could go for a caramel apple right about now…
Have a great weekend.
– Pete