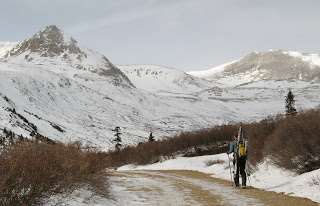 On Sunday this past weekend, my buddy, Josh, and I completed a long, strenuous ski traverse over Colorado's Mosquito Mountains. (If interested, you'll be able to read all about it in an upcoming issue of Off Piste Magazine…) Tired and hungry, we stopped in Frisco in Summit County to eat dinner at the Backcountry Brewery, a popular local watering hole. I've eaten there for years…long before I was diagnosed and went gluten-free. I've also eaten there a handful of times since, and it always involves careful negotiation of a menu riddled with possible gluten pitfalls.
Brewpubs like Backcountry, I find, are generally difficult to eat in if you're gluten-free. Or at the very least, your menu options are likely to be more limited than they might otherwise be. That's due to a number of reasons. For one, brewpubs typically have a shared deep fryer that cross contaminates what would otherwise be a gluten-free food (like a french fry). For another, the brewpub understandably wants to showcase its brews in its food (such as adding a certain beer to a BBQ sauce, thus rendering the sauce gluten-ous, or making a side dish like rice with a red ale, to the same effect).
Of course, eating safely in such places can be done (usually), even if your menu choices are heavily restricted. On this particular night, despite the fact that I've eaten there before ordering off the standard menu, I asked if – by chance – they had a gluten-free menu. (Who knows, sometimes restaurants get up to speed and surprise me!) Indeed, to my surprise the host replied "yes." He returned to our seats at the bar a few moments later with the GF menu. And that's when the disappointment set in.
The "gluten-free menu" was a very rudimentary menu printed out as a text document on 8.5×11 computer paper. In fact, it was technically a "gluten menu," since it listed those menu items that contained gluten, rather than those that didn't. The list was only 7 or 8 items long, which I knew wasn't correct. It should have been twice that long or more…easily. In comparing the gluten menu to the standard menu, I immediately noticed many obvious omissions (such as a fish dish served with wheat flour tortillas). The specialty menu also didn't acknowledge cross-contamination concerns with the deep fryer (such as french fries that would have been prepared in the same oil as multiple gluten-containing appetizers). Worst of all was the real kicker: the final line of the specialty gluten(free) menu read, and I quote word for word, "And anything else with gluten that I can't think of right now."
A statement like that is nothing short of deplorable. Either make the commitment to develop an accurate, updated GF menu for guests, or don't. This wishy washy middle ground is a dangerous thing. Sure, experienced GF diners will know what questions to ask and where the danger zones are in restaurant dining. But for a GF newbie venturing out to eat for perhaps the first time, a GF menu like that at the Backcountry Brewery instills a false and misplaced sense of confidence, and obviously contains egregious errors and misinformation to the detriment of the GF diner.
As for the food itself, I've always rated it as mediocre, and am often disappointed despite hopeful expectations.
If you're in Colorado's Summit County (or thereabouts) and are looking for tasty, safe gluten-free eats, you have other options: Mi Casa in Breckenridge nearby, Beau Jo's in Idaho Springs to the east, and Larkburger in Edwards to the west, to name but three options.
The final verdict: After a day spent in the real backcountry, I'll pass on Backcountry and satisfy my hunger elsewhere.
– Pete