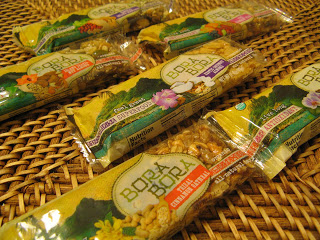 Back before Thanksgiving Kelli and I received a "care package" from the nice people over at Bora Bora Organic Foods, whose US office is right here in Colorado. They are the makers of a line of nutrition bars. These puppies are (hang on tight…it's a long list) gluten-free, organic, refined sugar free, non-GMO, vegan, and kosher. By virtue of the fact that they're vegan they're also dairy-free. And as best as I can tell, the bars are also largely a raw product, comprised of nuts, seeds, and fruit (using either agave nectar, honey, or brown rice syrup as a sticky binder and natural sweetener).
At present Bora Bora offers seven flavors (falling under one of three categories: energy, superfood, or antioxidant), with three more flavors in the works. The flavors range from exotic (Brazil Nut Almond, Mango Macadamia) to the domestic (Blueberry Flax, Sesame Cranberry). All of the official flavor names work in some kind of Bora Bora reference (Tribal, Volcanic, Tropical, Tiki) which feels a bit contrived to me. Just tell me the flavor… I don't need the extra flair of the sexy name.
Over the last two months, Kelli and I have had a chance to taste test the seven current flavors under a variety of circumstances – as a snack in the house, as a snack on the go, as trail food during a winter ascent of an 11,000-foot peak here in Colorado. Here's our assessment: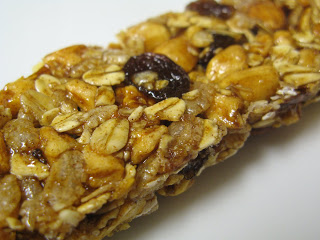 Kelli was lukewarm toward the bars. For her, the flavors didn't meld as one would hope. I'm a bit more positive. In general, I like the bars. Even more so, I want to like these bars, because of all the goodness that goes into them. In a sense, what Two Moms in the Raw does for "loose granola," Bora Bora does for nutrition bars.
My chief critique is also Kelli's, and that's that these bars make me damned thirsty. That, in turn, I attribute to the use of whole nuts, such as whole almonds. I think that sliced or slivered almonds, mixed with the other ingredients, would be kinder to moisture gods. I find these bars infinitely more enjoyable with a glass of water on-hand to wet my whistle between bites.
Another word of note is that the Cinnamon Oatmeal flavor, as the name implies, uses oats (a possible gluten cross-contamination concern). The Bora Bora website makes no mention of GF oats, and this was an immediate red flag for me. I'm very glad to report that the folks at Bora Bora were able to rapidly address my concerns in detail. The short story is that Bora Bora tests its oats at the University of Nebraska's Food Allergy Research and Resource Program, and those oats came in under 10ppm, exceeding the Codex 20ppm standard for gluten-free certification by a factor of two. Further, Bora Bora is actively working to source a certified gluten-free oat in order to instill heightened consumer confidence within the gluten-free community. Good enough for me.
The bottom line is that there's a lot to like about these bars from Bora Bora…especially when I'm well-hydrated, or have a glass of water at the ready.
Giveaway
Bora Bora's care package also included a tiki ceramic coffee mug and an organic cotton t-shirt (size XL). Consistent with our policy of only accepting product samples for review here on NGNP, we're passing those extra gifts along to you as a giveaway. If you're interested in entering, email me (pete@peterbronski.com) and include "Bora Bora giveaway" in the subject line. Submit your entry by midnight Friday, and we'll announce the winner and ship the prize beginning of next week!
– Pete