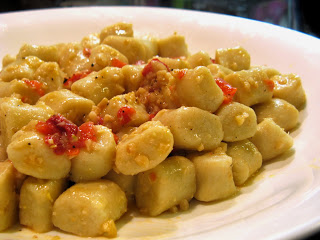 As ever, the recipe for today's Friday Foto is a classic case of necessity as the mother of invention. Lately, Kelli's been feeling a little burned out on red sauces…over pasta, on pizza, whatever. Watching a cooking show recently, though, she felt inspired to make a white sauce. There was just one problem: with Marin largely off of dairy, a creamy white sauce just wouldn't do for her. And therein lay the rub… a craving for pasta, but no red sauce, and no white sauce. What to make? Kelli's delicious response to the dilemma was this pine nut and roasted red pepper gnocchi.
The recipe has two parts: one batch of the gnocchi from our cookbook (page 108), and the sauce. Here's how to make the sauce and assemble the dish:
4 tbsp butter
2 large garlic cloves, minced
1/4 cup crushed or chopped pine nuts
1/2 cup roasted red peppers, rough diced
1/4-1/2 cup reserved pasta water (from the gnocchi)
1. Brown the butter in a large skillet or saute pan.
2. Add the garlic and cook until fragrant.
3. Add the pine nuts and roasted red pepper, and saute for about 5 minutes until the flavors have melded.
4. Add the pasta water and stir.
5. Add the gnocchi and toss to coat.
(Use more pasta water to thin the sauce and make it go farther. Use less pasta water for a more intensely flavored sauce.)
Enjoy!
– Pete