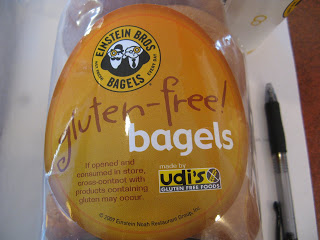 The Goods
The title of this post (and the above photo) pretty much says it all: Einstein Brothers is offering gluten-free bagels! Now, before you go and get your bagel-loving self into a tizzy, hang on a sec… there's more to the story. First, I'll divide this product review into four parts: my own bagel background, my review of the product, the back story behind the product, and a few lingering questions.
So, for my bagel background… It's important to note, I think, that I consider myself something of a bagel snob. It's not my fault. I was born into it. I grew up on Long Island in New York, definitively home of the best bagel on earth. Seriously. They're boiled and then baked. They have a glossy, almost crunchy shell. And they have a moist, doughy middle. Some say it's the Long Island water that makes the difference. (In fact, I know of one transplanted Long Islander who moved to Florida, opened a bagel shop, and imported his water from the Long Island taps to make his bagels… No joke.) Okay, so my bagel snobbery being what it is, take the review with that context in mind.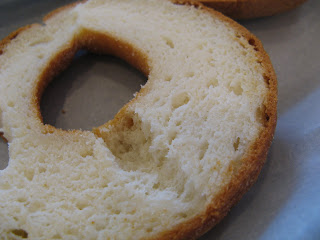 A raw, plain bagel
Secondly, as for my review of the GF bagels themselves… They have a nice, brown crust, but rather than a glossy finish, they're matte. (Sounds like I'm reviewing painting, I know.) The interior is very white, and the texture is something like bagel-shaped bread. Even so, it has good crumb, nice moisture, and is very soft. I give it more than a passing grade, and you can bump my review up a notch when they're toasted. Delicious.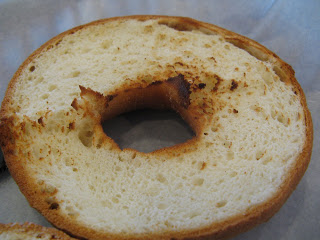 Ditto, toasted…
The bagels are made with: brown rice flour, tapioca starch, canola oil, egg whites, potato starch, sugar, tapioca maltodextrin, xanthan gum, tapioca syrup, yeast, salt, cultured corn syrup, and enzymes. (A few unfamiliar and tech-y sounding ingredients, but overall not too bad.)
Now, as for the story behind the bagels, here where it gets a little interesting… About one year ago, Udi's Gluten-Free and Einstein Bros. had initial talks about partnering to do a GF bagel. Einstein was often asked about offering such an option, and Udi's was interested in developing such an option. Earlier this year, those talks finally resulted in hard, concrete action.
For now, Einstein is field testing the bagels in three Colorado locations (in Highlands Ranch, Denver, and Broomfield). One week ago today I had the opportunity to attend a GF bagel tasting at the Broomfield location, resulting in this review. In a sense, Einstein is doing target market testing to gauge demand, and will make a go / no go decision on a nationwide roll-out based on that. (It's also a de facto test of Udi's ability to meet large-scale demand after moving into a new, larger facility.)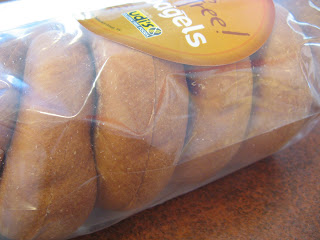 The bagels come in sleeves of 6, pre-sliced, for $8.99
But here's where the lingering questions come into play… First, despite the fact that Einstein is conducting market research on the GF bagels, the company is purposefully not doing any press. Aside from customer word of mouth at the three locations, and a handful of blog posts like this one, Einstein isn't announcing the availability of the bagels. Now, how you can expect to accurately measure market demand when your target market doesn't know about the product is beyond me…
Secondly, following the GF bagel tasting last week, I received a request (sent from Einstein via an intermediary) not to mention Udi's in any blog posts. Why? As you can see in the first photo above, Einstein's own packaging for the bagels prominently displays the Udi's logo. Me telling you about Udi's isn't giving you any priviliged information you wouldn't learn simply by looking at the package. (Thus far I can only think of two reasons why Einstein would make this request… either a) they're anticipating subcontracting GF bagels to bakers other than Udi's, or b) they want to brand these bagels as their own. Which is partly true. Udi's makes these bagels exclusively for Einstein, and you won't find them in the supermarket under the Udi's label, or on the Udi's website.)
And lastly, there remains an issue of cross-contamination concern if eating these bagels in a brick and mortar Einstein Bros. location. Probably because for now Einstein is market testing in a limited number of locations, it has done very little staff training about cross-contamination issues and handling protocols. As a result, if you do pick up a sleeve of bagels at one of the three Colorado locations, your safest bet is to take it home and consume the bagels there.
The bottom line, though, is that – in spite of the behind the scenes shenanigans – the Einstein Bros. gluten-free bagel is tasty and worth your while. Especially considering that bagels are something we tend not to bake ourselves at home. Let's hope the field testing is successful, and that the bagels become more widely available throughout the Einstein domain.
– Pete