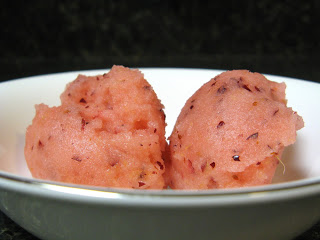 From the outset, let me say it…this Friday Foto is being posted on a Saturday. But given that yesterday was Christmas, I'm hoping you'll excuse the 24-hour delay.
Let me also say how much I love fresh cranberries. The crisp snap of fresh berries, with their balance of sweet and tart, is wonderful. Sure, I love my Craisins, too (dried, sweetened cranberries). But they're no substitute for fresh cranberries.
My first experience with fresh cranberries didn't come over the dinner table at Thanksgiving, or as a garland on a Christmas tree. Rather, it was during a canoe trip down the Peconic River on Long Island. I must have been 12 or 13 years old. Most "rivers" on Long Island are modest, and flow either north into Long Island Sound, or south into the bays that line the Atlantic coastline. Not the Peconic. It flows from west to east, emptying into Peconic Bay between the Island's North and South Forks. For much of its length, the river meanders between tree-lined shorelines, but in one stretch the river widens dramatically. Its banks pull back, and that expanse of flat water is covered in cranberries, the remnants of a former cranberry plantation. A ribbon of open water cuts across the cranberries from end to the other.
My next intimate cranberry experience didn't come until college. I was a majoring in Natural Resources at Cornell University, and one of my upper level classes was a course in wetlands. We studied wet meadows and swamps and fens and bogs. The course included extensive field work visiting the different kinds of wetlands. One of our destinations was Chicago Bog, a beautiful intact wetland in the Finger Lakes region. Set within a decidious forest, the bog itself sits in a large depression that collects water. The defining characteristic of the bog is a floating mat of peat and other vegetation. A small moat of open water separates the bog mat from the shoreline. We'd take a set of wooden planks, lay them from shoreline to bog mat, and tight-rope-walk across to the peat. The floating mat of peat had enough buoyancy to hold up our entire class. Once aboard, we'd set off across the mat, bouncing as we went, studying the plants…and collecting fresh cranberries in Tupperware containers or Ziplock bags. Such was my love of fresh cranberries cemented.
No time of year to me seems more evocative of the cranberry than the stretch from Thanksgiving to Christmas. We serve a fresh cranberry relish on Turkey Day, and recently, I felt inspired to make an orange-cranberry sorbet with all fresh ingredients. Here's how I made it: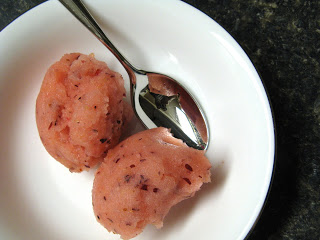 1/2 c fresh cranberry relish
1 1/2 c fresh squeezed orange juice with some pulp (about 3 large navel oranges)
1 c water
3/4 c agave nectar
1. To make the cranberry relish, start with about 3/4 c of fresh cranberries, and pulse them in a food processor until you have a fine relish. Measure off 1/2 c.
2. Add the orange juice, water and agave. Transfer to a blender, and blend until all ingredients are well combined and the agave is dissolved.
3. Add the mixture to your ice cream maker and churn as per its directions.
4. Enjoy the sorbet soft, or transfer it to a resealable container and pop it in the freezer to let it set up. Enjoy!
Not to toot my own horn, but Kelli declared this the best sorbet flavor she's ever had. It's super tasty, and has just the right amount of sweetness. This sorbet doesn't have the same pucker factor that my lime sorbet does. It's simply pure, fruity goodness.
Pete