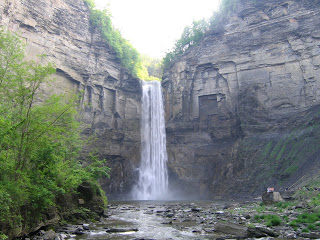 Taughannock Falls outside Ithaca, NY
[Note: This is the first in what I anticipate will be an irregularly recurring series I'm calling the Small Town GF Guide. Sometimes, I write enough about a place, or I research a place enough, or have experienced it enough, to reach a critical mass of information about gluten-free living there. If I feel like I've reached that point with a particular place, I'll post a new guide, which will include local markets for shopping, and local restaurants with GF options. If we've reviewed any of the places, I'll link to those reviews as well.
In the case of Ithaca, NY, both Kelli and I attended Cornell University, and Kelli's from Ithaca originally. It's a place we know well, love, and travel to often. Probably owing to those factors, over the last two years I've received a surprising number of inquiries from folks asking about GF options – mostly prospective students of Cornell and Ithaca College, students at those institutions, or parents traveling to visit their children at those institutions. I thought I'd make the info more readily accessible here on the blog, rather than always emailing someone individually, and hence here we are with the inaugural Small Town GF Guide for Ithaca, NY!]
Supermarkets
The following local supermarkets offer extensive gluten-free sections (or a wide array of GF choices in general):
Wegmans (www.wegmans.com)
GreenStar Cooperative Market (www.greenstar.coop)
Ludgate Farms (www.ludgatefarms.com)
Wegmans is by far the largest, and a great place for one-stop grocery shopping (it's enormous and has great stuff).
Restaurants
Restaurants within Ithaca or the immediate vicinity:
Waffle Frolic (www.wafflefrolicking.com) – waffles, fried chicken, and more! (Read our review.)
Taste of Thai (
www.tasteofthaiithaca.com
) – most dishes can be prepared gluten-free
Just A Taste (www.just-a-taste.com) – a Spanish tapas place, they don't have a specific GF menu, but should easily be able to accommodate you
Pangea (www.pangearestaurant.com) – can accommodate special dietary needs and requests CLOSED
The Heights (www.heightscafe.com) – can accommodate special dietary needs and requests, The Heights catered the rehearsal dinner for our wedding
Moosewood Café (www.moosewoodrestaurant.com) – Ithaca's world-famous vegetarian restaurant, can easily do GF
New Delhi Diamond's (www.newdelhidiamonds.com) – Indian
Le Garden Bakery (www.legardenbakery.com) – GF bakery located in nearby Lansing, NY
Restaurants a little farther afield outside of Ithaca:
The Stonecat Café in Hector (www.stonecatcafe.com) – has a GF menu
The Outback Steakhouse in Horseheads/Elmira (www.outback.com) – has a GF menu
Red Newt Bistro (www.rednewt.com) – always has GF items on the menu, ask the server for specifics
Ithaca also has a truly fabulous farmer's market. In general, the town is a progressive, environmentally-conscious, liberal community with an impressive array of diverse restaurants (especially for the community's relatively small size). Beyond the list above, I'm sure you'll find other options if you poke around.
– Pete
Small Town GF Guide last updated Nov 10, 2009