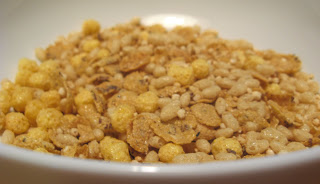 Today's product review is an appropriate follow-up to this week's two-part post on nutrient deficiency in the gluten-free diet. As I talked about in part 1 and part 2, it's important to draw a distinction between highly refined and processed gluten-free foods, versus those made from whole grains. It's similarly important to differentiate between foods heavily reliant upon corn and rice (the go-to GF grains, it seems), and those foods that incorporate a broader variety of gluten-free grains. As you know, whole grains and grain diversity are both the preference from a nutrition standpoint.
Cereals are a great case in point. Many times – though not always – they're made with refined grains rather than the preferred whole grains. Even more often, they eschew grain diversity in favor of often just one – usually corn (corn flakes, corn puffs) or rice (rice puffs, crisped rice). It's like a tiny agricultural monoculture sitting in your bowl each morning for breakfast.
There are bright lights in the cereal world, however. One company we're a fan of us is Nature's Path Organic. Back in August 2009 we did a review of much of their product line. They've always done a nice job using organic ingredients and whole grains. Now, with a new line of Sunrise cereals that just came out, we can also celebrate grain diversity!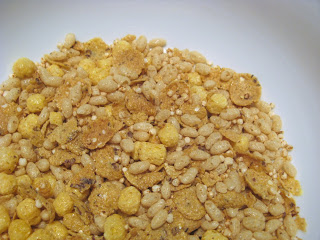 Crunchy Vanilla Sunrise
The new Sunrise cereals come in two flavors: Crunchy Vanilla, and Crunchy Maple. Both are made with almost exclusively organic ingredients, and both use the same cereal base, which consists of: whole grain corn meal, evaporated cane juice, brown rice flour, yellow corn flour, inulin (a plant fiber), quinoa puffs, flax seeds, buckwheat flour, quinoa, sea salt, amaranth, molasses, and tocopherols (for Vitamin E). What immediately jumps out at me is the variety. There are six – count 'em, six! – grains, quasi-grains, and seeds in there (corn, brown rice, quinoa, buckwheat, flax, and amaranth). That's good news.
The Crunchy Vanilla Sunrise also has the addition of natural vanilla flavor. It's quite tasty; a little sweet without being too much so. There's nice textural diversity to complement the grain diversity (a nice reminder that you're eating lots of good stuff in there…).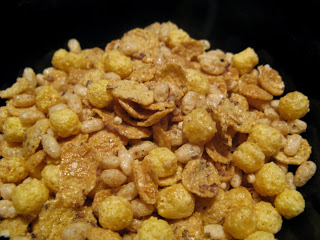 Crunchy Maple Sunrise
The Crunchy Maple Sunrise lacks the vanilla flavor, and instead uses organic maple syrup and natural maple flavor. The maple flavor clearly comes through, without being overpowering. For me, there's a subtle aftertaste that I don't pick up with the Crunchy Vanilla Sunrise. I haven't quite been able to put my finger on exactly what it is I'm tasting.
The bottom line, though, is that both of these new cereals are winners.
– Pete