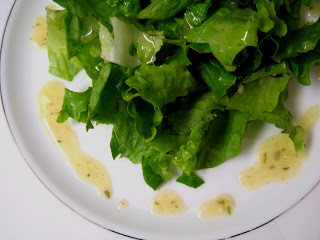 This simple salad dressing has a bright, sharp flavor, and is great paired with hearty lettuces, such as green leaf (pictured) or Romaine. In addition to being superb over salad, lemon and tarragon is a classic combo that also pairs well with chicken or fish. Here's how to make our version:
Juice of one lemon
1/3 c olive oil
1/2 garlic clove, minced
1/2 tsp tarragon leaves
1/4-1/2 tsp Dijon mustard
1/2 tsp sugar
Dash of salt and pepper
Combine all ingredients, mix/shake well, and serve.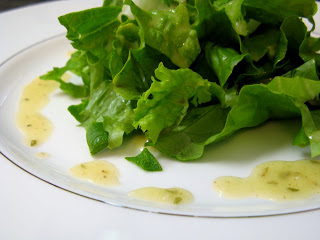 We used dried tarragon leaves, like you might find in the spice section of the supermarket. However, you can also use fresh tarragon leaves. Rub them between your fingers to slightly bruise the leaves before adding them to the dressing. This will release more of their flavorful essential oils.
– Pete