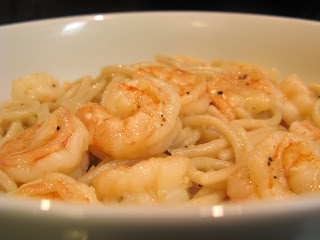 Up until recently, we had a massive bag of raw shrimp living in our freezer, and we've methodically been working our way through it, using the shrimp to make all sorts of dishes…from shrimp pad thai, to jambalaya (coming up in the Friday Foto), and in this garlic shrimp. This recipe is basically a quick and easy shrimp scampi, minus the chopped fresh parsley garnish.
I'll be honest with you. Either Kelli or I (probably me) accidentally threw away our recipe notes for this one. Thankfully, Kelli is a master at recalling her on-the-fly recipe creations, and we've done our best to recreate that which was lost. Admittedly, the exact measurements and ratios may be just slightly off, but probably not enough to impact the recipe. Though the photos and the recipe instructions make it sound simple and straightforward (which it is), the shrimp burst with flavor from the garlic, butter and white wine.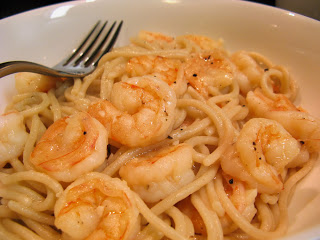 3 tbsp butter
3 cloves garlic, minced
Juice of one lemon
1/2 cup dry white wine
Salt and pepper to taste
Raw shrimp, peeled and deveined
GF pasta
1. Saute the butter and garlic until fragrant.
2. Add the shrimp and saute just until they're pink and cooked through. (Overcooking the shrimp will make them tough/chewy.) Remove and set aside.
3. Add the lemon juice and white wine, and simmer until the sauce is reduced by roughly half and slightly thickened. Season with salt and pepper.
4. Add the shrimp back in, toss to coat, and serve over your favorite GF pasta.
Enjoy!
– Pete