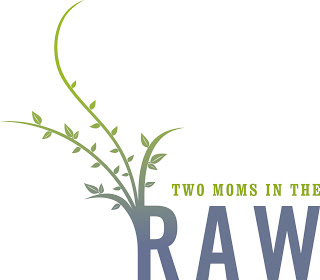 Like Boulder Soup Works, Two Moms in the Raw is another joyous farmers market discovery. Based in Lafayette, Colorado, the company was founded by Shari, a mom who discovered that following a raw diet helped her body tackle a diagnosis with multiple sclerosis. To date, the company has come out with two product lines: granola, and sea crackers.
All the products are 100% raw, 100% organic, vegan certified, Kosher certified, and Colorado Proud (which means they're made with locally grown produce). At present, most – but not all – of the products are gluten-free. Three flavors of granola are off-limits to the GF folks. However, both the blueberry and the gojiberry granola come in GF versions, and all three flavors of the sea crackers (tomato basil, pesto, and garden herb) are gluten-free.
Two Moms triple washes the kitchen to minimize any potential for cross-contamination, and alternates production days, doing only gluten-free products on a designated day. (In addition, they'll be eliminating gluten from their other products. A staffer told me the gluten came from cross-contaminated oats, though I don't see oats listed in the ingredients for the products. Two Moms also plans to pursue GF certification in early 2010. Hooray!)
At present, TM is available in five states (CO, FL, KS, NM and TX), as well as online via their website.
But that's enough background… On with the review!
On the down side, this food is expensive: $10 for an 8oz bag of granola, and $7 for a 4oz bag of sea crackers. (You are – as cited by Two Mom's copious certifications – getting some high quality food, though.)
The Gluten-Free Granola
As I mentioned, the granola comes in two GF versions: blueberry and gojiberry. Both use the same base: millet, buckwheat, coconut, flaxseed, sunflower seeds, sesame seeds, pecans, almonds, pepitas, apples, agave, cinnamon, and sea salt. Presumably, the agave is the sticky binding agent that enables it all to hold together and not become a bag of glorified trail mix. For my taste, the combination of ingredients provides just the right amount of sweetness and whole grain nuttiness, and the cinnamon really comes through to pull the flavors all together.
In terms of comparing the blueberry and gojiberry…they are literally the only difference between the two granolas. For my money, I don't taste a significant difference from one to the other. The berries each bring similar qualities to the granola, enough so that they're largely interchangeable, and the resulting difference in flavors is subtle (almost to the point of being negligible).
Having said that, however, the bottom line is that the flavor is delicious. This is some good stuff. I could eat a bag full (oh wait… I HAVE eaten a bag full) and not get tired of the granola. I give the gluten-free granola an enthusiastic two thumbs up for flavor.
The Sea Crackers
The sea crackers – I also mentioned above – come in three flavors: tomato basil, pesto, and garden herb. The crackers are thin, with a slightly crunchy texture (in this sense, they're vaguely reminiscent of Mary's Gone Crackers). As with the granola, Two Moms here uses a common base, and the addition of certain ingredients shifts the flavor one way or the other. In the case of the sea crackers, that base is a pair of book ends, with flaxseed on one end, and kombu and sea salt on the other end.
In between, you'll find sun-dried tomatoes, garlic, and herbs for the tomato basil; pine nuts, herbs, spices and garlic for the pesto; and herbs, spices and garlic for the garden herb. What immediately struck me was how much each flavor tasted like what it said it was. This wasn't like sucking on a lime ice pop, where the lime flavor tastes clearly artificial and is a pale imitation of the real thing. I could taste the tomato and basil in the tomato basil sea cracker because…well…there's tomato and basil in there. Ditto for the pesto – the pine nuts plus the herbs (which I'm guessing includes basil, and maybe some parsley and/or cilantro) – makes for a very pesto-tasting pesto flavor. Nicely done.
What immediately struck me (and Kelli) next, though, was the taste of the kombu, which is an edible Japanese seaweed or kelp. That single ingredient overpowers and dominates the sea crackers. No matter which flavor I was eating, and no matter how much I tried to focus on the flavor, I couldn't get past the kombu. Now, this is strictly a flavor preference (or in my case, anti-preference). If you're someone who likes the flavor of kombu, I have no doubt you'll gobble these up. But if kombu is not your thing, move on.
The Bottom Line
From a quality of ingredients and an execution standpoint, Two Moms is a home run. Whether you're a raw foodie, or a foodie who eats raw food, there's much to love here. Two Moms does lose some points on price, because they're very expensive. And as you read, our reviews were mixed when it came to flavor. The granola was superb. The sea crackers – as much as I liked their intended flavors – were subverted by the overpowering kombu. Without the kombu, I suspect I'd enjoy the crackers as much as I did the granola.
The Deal for NGNP Readers
For those of you who've stuck in there through the full review, I've saved the best for last: Two Moms is generously offering to send a free sample package of their gluten-free products to two lucky No Gluten, No Problem readers. Email me at pete@peterbronski.com and include "Two Moms samples" in the subject line. Entries should be received by midnight, Thursday, November 5 (one week from today). On Friday, November 6, I'll randomly draw two names from among the entries, and you'll receive a sample package of Two Moms products in the mail.
– Pete
TMITR logo used with permission.