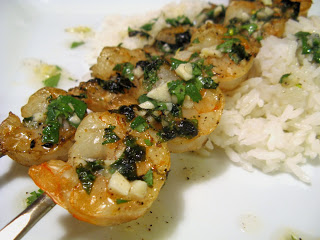 Whether you live in Colorado or not, you've probably heard about the monster snowstorm that just hammered us. Snowfall totals were approaching 40 inches in some locales (that's nearly 3.5 feet!). Here in Boulder, we officially clocked in with 20 inches of snow. Not a man to be separated from his grill, I shoveled a path from the backdoor of our house to the grill so that I could make this dish. As I prepared to step out the backdoor and do battle with Jack Frost, Kelli asked me, "Are you sure you don't mind grilling tonight?" Not in the least. I'm a passionate believer in year-round grilling.
If you're looking for a recipe with clean, bright flavors and a hint of smokiness, this is the one for you! The smoke from the grill, the brightness from the salt and lime, the edginess of raw garlic, and the herb goodness of cilantro make for a winning combination on the shrimp. It all starts with making a mojo-like concoction that doubles as both a marinade and a sauce:
1/3 bunch cilantro, chopped
6 garlic cloves, minced
1 lime, juiced (it should be a juicy lime that yields at least a 1/4 cup of fresh lime juice)
1/3 cup olive oil
1/2 tsp salt
1/2 tsp ground black pepper
Combine all the ingredients in a small bowl and mix well. Set aside half of the mix to use as a sauce later. You'll use the other half as a marinade for the shrimp…
20-30 shrimp, peeled, deveined, skewered (I used 31-40 count shrimp. You could go bigger or smaller – I wouldn't recommend smaller – but you may need to use more or less shrimp, or use more or less marinade…)
Place the shrimp skewers in a single layer on a large plate or tray. Then use a spoon to drizzle the marinade over them. (I marinade only one side, so don't worry about flipping them over.) While you're doing this, have your grill preheating to medium high.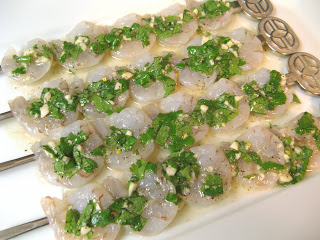 With the grill up to temperature, place the shrimp skewers on the grill, marinade side up. It will only take a few minutes for the shrimp to cook through. You'll want to monitor them closely to make you don't overcook them. Toward the end, flip them once and grill briefly with marinade side down. Then remove from the grill.
To plate the dish, you can either leave the shrimp on the skewers, or remove them for yourself and your guests. If you leave the shrimp on the skewers, remember that the skewers (metal, in our case) will be very hot! Serve the shrimp over a bed of rice. For the finale, drizzle the sauce (which you set aside in the beginning) over the shrimp and rice. Lastly, enjoy! Serves 2.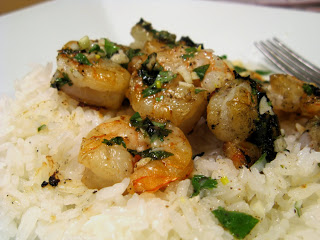 Variation: If you don't have a grill, or don't feel like shoveling a path through deep snow in order to grill, you can also make this recipe by creating an open-top pocket of tinfoil, placing the shrimp and marinade inside, and sticking it under a broiler (similar to the way you might do a head of garlic with olive oil). However, this method of preparation will lack the added depth of smokiness imparted by the grill, and the shrimp will steam more so than they'll cook by direct heat.
Either way, though, this is still a winning dish. Happy Halloween!
– Pete