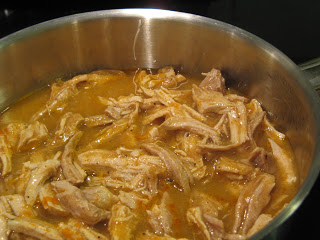 In my post about the Xterra Mountain Cup race at Beaver Creek, I wrote about how my dinner the night before the race included carnitas. "Carnitas" literally means "little meats" in Spanish, and most often refers to some form of spicy shredded pork, which is how we like to make it. It's a versatile dish – you can use it as the filling for tacos (as I did before Xterra), in corn tamales, or simply over rice (as in the photo below).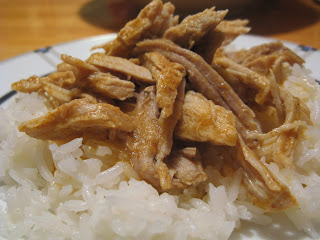 Here's how to make it:
One 2-3 pound pork roast, quartered
1 onion, quartered
3 garlic cloves, peeled
1 teaspoon ground cumin
1 teaspoon chili powder
Salt and pepper
1. Place all the ingredients in a large pot, and fill with enough water to cover those ingredients, plus a few extra cups.
2. Bring to a boil, then reduce the heat to medium and boil uncovered for two and a half hours, until the pork shreds easily.
3. Remove the pork from the broth, let cool a bit, and then shred. (I like to use two forks for the shredding.)
4. Blend the broth with an immersion blender.
5. Season the shredded pork with 1/4 teaspoon garlic powder, 1/2 teaspoon ground cumin, 1/2 teaspoon chili powder, and a dash each of salt and pepper. Toss to coat.
6. Pour some of the reserved broth over the meat. Stir and serve!
– Pete