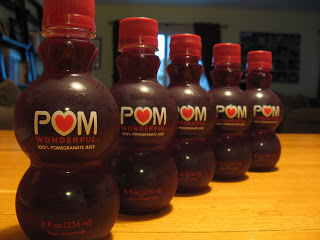 Tomorrow I'll continue with Part 3: During-Race GF Nutrition of my four part series on Going the Distance. But for today, I thought I'd shift gears and post a product review. We haven't done one in a while, and it was time we got back on that horse! Usually when we do product reviews, we're assessing specialty gluten-free foods that otherwise wouldn't be gluten-free…cookies, breads, pastas, beer, etc. For today, though, we're bucking that trend and reviewing a product that is naturally gluten-free: Pom Wonderful's 100% Pomegranate Juice. We do our best to steer you toward the best specialty GF foods out there. Why shouldn't we steer you toward the best naturally GF foods out there, too?
Pomegranates have been cultivated for thousands of years, and they've had a loyal foodie following over the millenia, thanks in part to their abundant health benefits (which range from cardiovascular health to potent antioxidants). The friendly folks at Pom Wonderful shipped us a case of their juice, along with some accompanying information. To PW's great credit, they not only included a fact sheet summarizing the health benefits that have been uncovered (or proven) via clinical research. They also included a sheet of specific citations from peer reviewed journals…Clinical Nutrition, American Journal of Cardiology, Journal of Nutrition. Kudos to that.
As the company's name suggests, PW uses exclusively Wonderful variety pomegranates (there are more than a dozen varieties) grown in California. The Wonderful variety, for its part, originated in Florida, and was brought to California in 1896. It is prized for its juiciness, great flavor, and for its status as one of the healthiest varieties of the already healthy pomegranate.
We love Pom Wonderful's 100% Pomegranate juice, not just because pomegranates are good for you, but also because all you get is 100% pomegranate juice. There's no high fructose corn syrup, no added sweeteners, no filler juices. Each bottle is pure goodness. I enjoyed drinking it straight, or cut 50/50 with seltzer to make a refreshing pomegranate spritzer.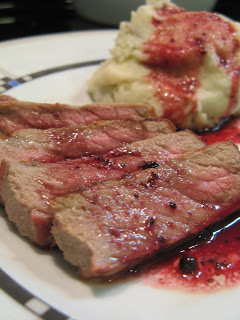 Wanting to branch out and use our supply of Pom Wonderful juice in more inventive ways than simply enjoying a spritzer, we also made the juice into a steak sauce (reminiscent of a red wine sauce, but brighter and sweeter in flavor). Here's the recipe:
1/2 cup Pom Wonderful 100% pomegranate juice
1 tbsp butter
10 black peppercorns, crushed
Salt
Garlic powder
If you're pan-searing the steak, use the PW juice to de-glaze the pan and then make the sauce. If you're grilling your steak, as we did, we recommend adding a bit of GF beef stock to the sauce to increase the depth of flavor.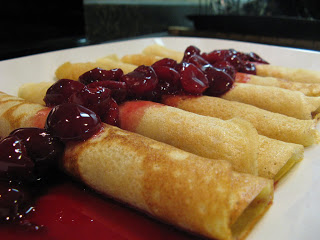 We also used the Pom Wonderful juice to make a pomegranate-cherry sauce that we served over crepes for breakfast. If you're a fan of fruit-based sauces on your crepes (or pancakes, or waffles), then you'll love this sauce, too. The sugar balances the tartness of the cherries, and pomegranate juice brings in added element to round out what would otherwise be purer cherry flavor. Here's how to make it:
About 1 pint cherries, halved and pitted
½ cup sugar
2 tbsp cornstarch
1 cup (8 oz) PW juice
Mix the ingredients together cold so the cornstarch doesn't get lumpy. Then bring to a boil for one minute or so. Let cool (somewhat) and serve over your crepes.
Our final analysis: we give the Pom Wonderful 100% pomegranate juice an enthusiastic two thumbs up.
– Pete