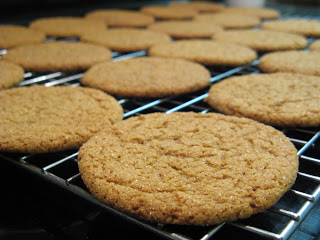 Kelli's dad is a huge fan of molasses cookies (sometimes also known as ginger snaps). He prefers cookies that are crunchy throughout. Our version is something of a hybrid – a crunchy edge, with a delightfully chewy center. We recently made a batch for the one year birthday of our friend's son, John. But of course, we couldn't resist hanging on to a few cookies to enjoy ourselves at home!
2 ¼ cups GF flour
2 ¼ teaspoons xanthan gum
1 cup packed brown sugar
¾ cup butter, softened
¼ cup molasses
1 egg
1 teaspoon baking soda
1 teaspoon ground ginger
1 ½ teaspoon ground cinnamon
½ teaspoon ground cloves
¼ cup granulated sugar
1. Preheat the oven to 375°F.
2. Cream together the brown sugar and butter in a mixer. Add the molasses, egg and spices.
3. Stir in the flour and xanthan gum.
4. Put the granulated sugar in a small bowl. Shape the cookie dough into 1-inch balls and roll them in the sugar to coat. Place them on a cookie sheet about 2 inches apart.
5. Bake for 8 – 10 minutes. Let the cookies rest out of the oven for 5 minutes. Then, remove from the cookie sheet and cool on wire rack.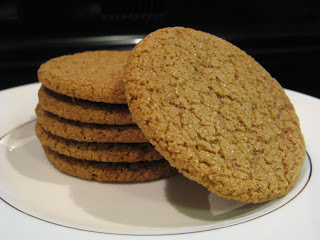 Enjoy!
– Pete (& Kelli… my silent partner… who made these cookies…)