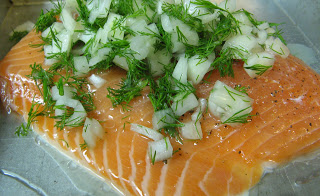 Ever since I returned to Colorado from my trip to Quebec's Gaspe Peninsula, Kelli and I have been cooking more seafood, including salmon. It's not exactly local, but as a native East Coaster who grew up alongside the ocean regularly eating fresh seafood, sometimes I just need to get my "fix." One classic combination of flavors is salmon with dill. (If you really want to go nuts with the pairings, add a glass of Pinot Noir to the mix!) Our version of a baked salmon with dill dish is simple, healthy, and delicious. Have a great weekend!
1 lemon, juiced
1/3 – 1/2 cup fresh dill, chopped
1/4 cup sweet onion, diced small
Olive oil
Salt and pepper
Salmon fillets
Preheat the oven to 400 degrees F.
Mix together the lemon juice, dill and onion in a small bowl.
Rub the salmon fillets with olive oil, and season with salt and pepper.
Place the salmon in a shallow baking dish or pan, and pour the dill mixture over the fillets.
Bake for about 20 minutes, until the salmon is opaque and flakes easily with a fork.
– Pete