Ravioli is one of those foods that doesn't get a lot of press within gluten-free circles. I've seen a select few specialty GF bakeries and companies making them (they tend to be very pricey), but by and large they're off most people's radar screens (perhaps because folks think ravioli are too difficult to make). Which is a shame, because they're pretty straightforward to make from scratch. Here's how to do it:
Back in November 2008, we wrote about how to make pasta dough from scratch. Begin with a batch of freshly made pasta dough. Back then we were using a blend of tapioca and brown rice flours, but more recently we've simply been using an all purpose GF flour blend.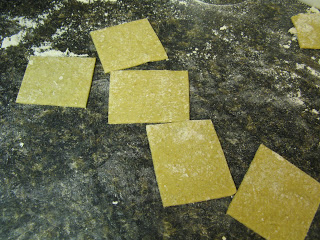 Roll the pasta dough out into a large, thin sheet about 1/16″ thick. Then cut the sheet of pasta into equall-sized squares. 2″ squares will give bite-size ravioli. 3″ squares will give lots of real estate for fillings.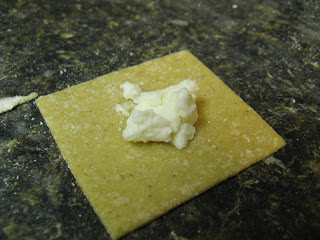 Place a dollop of your preferred filling (we use ricotta cheese here) in the center of one ravioli square.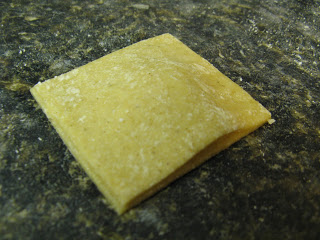 Wet the edges of the square with a finger dipped in water, and lay a second ravioli square directly over the first.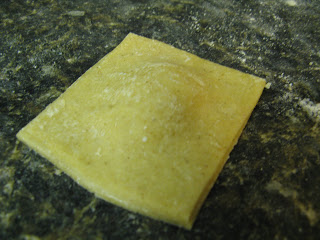 Using your fingers, firmly press down on the edges of all sides of the dough.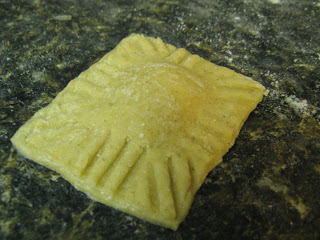 Then, using the tines of a fork, press around the edges again. This step is both cosmetic and structural, firmly sealing the filling inside the dough.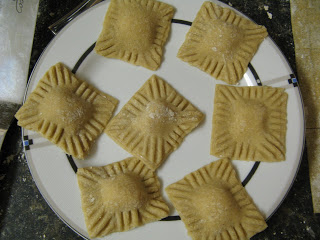 The result is beautiful ravioli from scratch. Here, I have a pretty good-sized border around the filling, but you can also put in more filling and have a thinner edge, as long as the seal is good.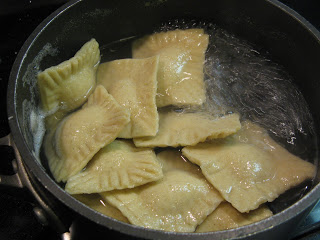 The last step is to cook the ravioli in boiling salted water. Once they float (they'll sink initially) we give them a few extra minutes to cook through, and then they're done. Serve wih a sauce.
– Pete