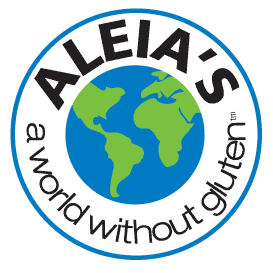 Increasingly, it seems, gluten-free bakeries are popping up in all regions of the country. Having tasted samplings from many such bakeries, I have to say that, on the average, I've been impressed. Aleia's Gluten-Free Bakery, based in Branford, Connecticut, is no different.
Aleia's founder, Kim Snow, got her start in the restaurant and baking business some 17 years ago (her background includes training at the Culinary Institute of America). Then, four years ago she was diagnosed with Celiac Disease. That diagnosis led directly to founding Aleia's about two years ago. As with many of us, Kim's passion for baking gluten-free stemmed from a desire to create tasty, gluten-free versions of foods she knew and loved, and foods that were part of her family story.
In the two short years since then, response to Aleia's has been overwhelmingly positive, so much so that the bakery is moving into a larger, dedicated GF facility with more ovens, increased production capacity, and a new packaging design. Here's out assessment of Aleia's offerings:
General
Right from the get go, one thing that Kelli and I loved was that Aleia's recipes were straightforward, made with simple ingredients and without artifical preservatives, trans-fat-filled shortening, or overly complicated ingredients lists. For example, the almond horn cookies contain almond paste, sugar, egg whites, and almonds. That's it. Nothing more, nothing less.
Cookies
Aleia's offers a wide variety cookies. From our perspective, the flagship cookie is the Almond Horn Cookie. In short, it is divine. Great chewy texture, incredible almond flavor. If you love almonds, you will love this cookie. The Pignoli Nut Cookie was equally good for all the same reasons. Aleia's offers to versions of macaroons: a Coconut Macaroon and a Chocolate Coconut Macaroon. Both had nice coconut flavor, but they were fairly dense. Our preference is for our own, homemade macaroons, which have a light, airy texture. Admittedly, our macaroons – because of the light texture – are fragile and wouldn't transport as well, so a denser macaroon like Aleia's may be pragmatic. The Peanut Butter Cookies had great peanut butter flavor, and the dusting of granulated sugar on top was a nice touch, especially for those with a strong sweet tooth. The Chocolate Chip Cookies were crunchy, almost reminiscent of the original Chips Ahoy style of cookie. The Ginger Snap Cookies and Snickerdoodle Cookies were both good, though we prefer our own versions over the Aleia's version.
Bread Crumbs, Croutons and Stuffing Mix
Aleia's offers two kinds of bread crumbs: Plain and Italian Seasoned. The plain version was surprisingly salty. The Italian seasoned version was excellent. We used the bread crumbs to make chicken parmesan, mozzarella sticks and meatloaf, all with very successful results. The croutons – offered in Plain and Parmesan flavors – and the stuffing mix – offered in Plain and Savory flavors – were all variations on a central theme. Fortunately that central theme – a bread cube – is a good one. The parmesan croutons were great over salad. The Plain croutons and Plain stuffing mix were fairly similar (and probably interchangeable), and a nice option if you want to spice things up with your own custom blend of spices and other flavors. The savory stuffing mix was very nice – a good blend of salt and herbs and spices.
Conclusion
Although we liked some things better than others in Aleia's line of products, we rated everything good to great, and give an enthusiastic two thumbs up. We wouldn't hesitate to recommend Aleia's to someone looking for a great GF bakery.
– Pete