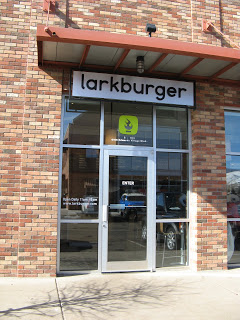 For much of last week, Kelli, Marin and I were in Vail, Colorado, where friends of ours from Washington were in town for a ski vacation. Needing to satisfy a lunchtime hunger craving one day, we debated where to eat. Vail certainly has no shortage of high-end, white tablecloth (expensive) restaurants, including Larkspur, which is the brainchild of renowned Vail Valley chef Thomas Salamunovich.
Salamunovich has proven himself a gifted and visionary restaurateur, so we decided to check out one of his other Vail Valley offerings – Larkburger, in nearby Edwards. In addition to being gentle on the wallet, Larkburger serves up exactly what we were craving: burgers and fries, but executed to perfection.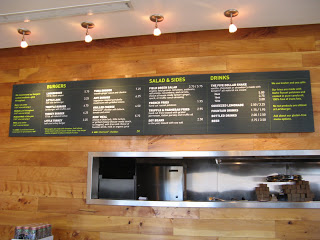 The entire menu is gluten-free, with the exception of the buns, which are kept separate and added only at the end of the cooking process. The hamburgers are made from Coleman natural Angus beef, and are cooked to order according to your specifications. Standard fixings are organic tomato and red onion, plus a housemade special sauce, and the gluten-free burgers are served wrapped in green leaf lettuce.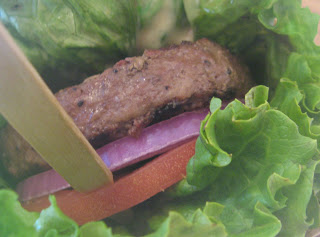 The fries (hand-cut Russets) are cooked in trans-fat free canola oil. They're shoestring thin, and perfectly salted.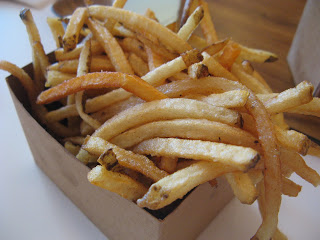 Other menu items include a tuna burger with wasabi ginger sauce and cilantro, and an organic field green salad served with your choice of tamari-ginger, ranch or truffle dressing. Getting the picture that this isn't your typical burger joint?
In a word, the food was Dee-licious. In fact, I named Larkburger to my personal list of Top 5 Hamburgers I've ever had. We returned a second time to confirm our opinion. Kelli thought the tuna burger was divine, and my second Larkburger was just as good as the first.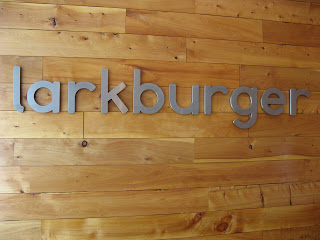 What's more, as if the food didn't give you enough to love about Larkburger, consider these facts: The kitchen uses energy efficient appliances to reduce consumption. All the food is served in biodegradable, recyclable, and/or compostable containers, including Spudware (cups and utensils made from corn or potato). The oil used to make the french fries is turned into biodiesel at the end of its cooking lifespan. And the wood paneling is all reclaimed timber.
In the end, we give Larkburger an enthusiastic two thumbs up. If you're ever swinging through the Vail Valley, don't hesitate to stop in and get one of the best hamburgers (gluten-free!) this side of the Mississippi.
– Pete