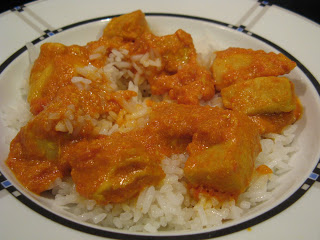 Earlier this week we traveled to the Far East with our Asian-inspired noodle bowl. Today we're following the Silk Road, in a way, west to the Near East and a stop in India with this version of a chicken curry. The sauce has strong undertones of tomato, but also has a wonderfully complex and depth of bold flavor from the curry spices. It has great spice flavor, without being too spicy (in a burning-your-mouth-with-heat kind of way). And the combination of tomato, cayenne and turmeric meld their red and yellow colors to yield a vibrant orange dish.
Ingredients:
2 large boneless, skinless chicken breasts, cubed
2 tsp salt
1/4 c olive oil
1 medium onion, finely chopped
1 large garlic clove, minced
1 tsp ground ginger
1 tsp cumin
1 tsp turmeric
1 tsp coriander
1 tsp ground cayenne pepper
1/2 c water
1 14.5oz can tomatoes
1/2 c yogurt
Steps:
Sprinkle the chicken with 1 tsp of the salt. Brown the chicken in olive oil in a skillet over medium-high heat. Set chicken aside.
Add the onions and garlic to the skillet and sautee. Stir in the ginger, cumin, turmeric, coriander, cayenne, and one tbsp water. Stir well for about a minute.
Add the tomatoes, yogurt, and remaining salt. Puree the sauce with a handheld immersion blender.
Add the chicken back in, along with the remaining water. Bring to a boil, then reduce heat, cover, and let simmer for 20 minutes.
Serve over rice.
Enjoy!
– Pete