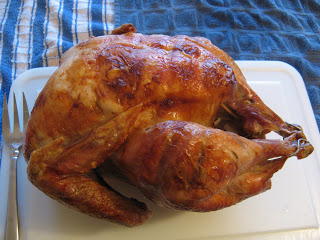 Well, it's nearly a week after Thanksgiving, and I'm finally carving (to use a Thanksgiving term!) enough time out of my day to blog about the holiday. The last week or so has been a true whirlwind. Aside from the holiday itself, I've had five magazine article deadlines, have been busy finishing up the last of the house projects (anticipating the arrival of Baby Bronski any day now…), and traveling on the road with a book tour for Powder Ghost Towns (TV appearances in Vail and Steamboat Springs, and slide show / book signings in Steamboat Springs, Colorado Springs, and Boulder). You might say that, like the turkey above, I'm done. Or at least tired.
Our Thanksgiving, however, was wonderful (as I hope yours was, too!). A last minute change of plans left us with a 14 pound turkey for 4 people. Needless to say, we had lots of delicious leftovers, which in my book was a very good thing (if you don't count the five pounds I managed to pack on by overeating…).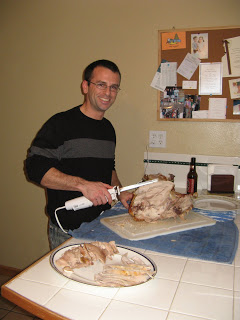 Although Kelli and I originally planned on hosting Thanksgiving at our house, we shifted venue to the house of our good friends, Greg and Emily. They have a six month old, and we're on the verge of having a newborn, so we thought it best not to tempt fate and host at our house (I was born on Thanksgiving, and my mother warned us…). Thanksgiving at the Brinkmans was just as Thanksgiving should be – a holiday spent with good friends and family, football on the television, amazing smells wafting out from the kitchen, and a long, drawn-out meal.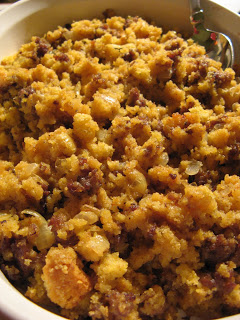 Kelli made a delicious GF corn bread stuffing which was truly spectacular. Here's how she did it: Start by baking a 9×9 pan of GF corn bread. Set aside. In a large skillet, saute 1/2 pound of pork sausage. Add four tablespoons of butter, and saute one small onion (chopped) in the butter and sausage. Add salt, pepper, and fresh sage to taste (we've made it both with and without the sage… both are great). Add half of the corn bread, cut into small pieces. Pour one cup of GF chicken stock over the entire mixture. Transfer to a casserole dish, cover with tin foil, and bake in a 350-degree oven for 30 minutes. Voila! GF stuffing that can compete with the best of them.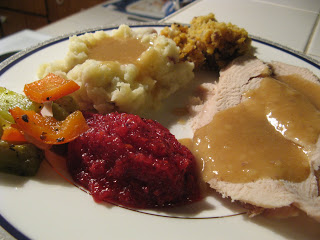 In addition to the turkey and stuffing, our Thanksgiving dinner included many of the usual suspects: mashed potatoes, gravy, roasted vegetables, and a cranberry relish. The plate above was the first of three full plates I served myself, in addition to two servings of dessert, which may help to explain the five pounds I'm now working extra hard to shed.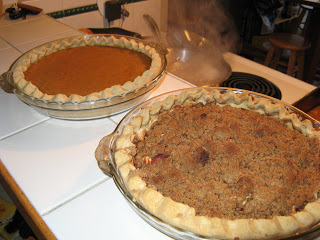 And of course there were the pies – a GF Dutch apple pie, and a GF pumpkin pie.
True to the holiday, this Thanksgiving, like many before it, was a time to reflect and give thanks. Kelli and I have much to be thankful for in 2008 – wonderful friends and family, the anticipated arrival of our first child, the publication of my first and second books (in March and November, respectively).
But specific to this blog, I also wanted to give thanks for you, our readers, for my fellow gluten-free bloggers, and for all who have touched the gluten-free community in ways big and small. Sometimes, it is only with the benefit of hindsight that we realize that what initially seemed a negative, is in fact a positive. Such has been my experience since going gluten-free. In January 2007, it seemed like a damning diagnosis. Since then, however, I've realized what a benefit it has been instead. I've shifted to a more healthful diet, and my body feels stronger and more healthy without its being ravaged by the gluten. I'm more aware of what I'm eating, and more intimately connected to my food. I've revisited the traditional, cultural cuisines of my heritage to make family heirloom recipes gluten-free so that I can continue those traditions. And I've connected with people like you, who share the gluten-free lifestyle. We're bonded by that commonality, and I give thanks that this blog, in a way, has brought us together.
– Pete