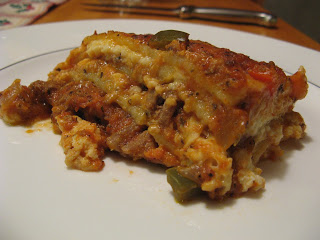 If you spend any time in the kitchen experimenting with gluten-free recipes, you'll know that there are times when things don't turn out exactly as you've planned. That was very true for us, and it accounts for my hiatus from blogging. Unfortunately, though, it had nothing to do with the food.
Early on Christmas Eve, Kelli and I rolled our sleeves up and got into the kitchen, ready to churn out dish after dish of GF holiday feast food. Our mock cake, I'm happy to report, was repeated with great success. Kelli also whipped together a double chocolate mousse torte. For dinner that evening, we chowed on whole dungeness crab, and delicious homemade lasagna from scratch. For the lasagna, I made a double batch of GF pasta noodles from scratch using our recipe. Instead of cutting the sheets of pasta into thin noodles, though, I cut them into large squares that matched the size of our baking pan. Kelli made a filling of seasoned tomato sauce with ground turkey, onions, and red and green peppers. Then we layered the noodles, sauce, filling, and mozarella and ricotta cheese, and baked the lasagna in the oven (first covered with tin foil, then without to finish it off). The result was dreamy for our taste buds.
Shortly thereafter, however, our holiday went awry. Kelli was rushed to the hospital with sudden and severe post partum complications. I'll spare the details here, but it was a very scary couple of days. We spent Christmas in the hospital, and because we left home so suddenly (Kelli in an ambulance, me trailing with baby Marin in our car), all the food I mentioned above had to be tossed in the garbage after it sat our on our kitchen counters unrefridgerated for days (the smell of the crab was particularly horrid).
Our family is all home now, and Kelli is recovering. After riding out the storm, skies are looking bluer again. Just as surely, we'll resume our usual blogging… starting with a review tomorrow of Hapa Sushi in Colorado, which recently unveiled a gluten-free menu. In the meantime, we wish all of you a very happy and (especially in light of our recent scare) healthy New Year.
– Pete