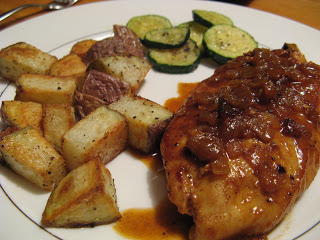 It's more than halfway through the fall, which means that if you look in our fridge, there's a pretty good chance you'll find a jug of apple cider. In years past, we've used apple cider to make a phenomenal cider-bacon chicken. We were craving just that dish the other night, but discovered that the package that we thought was bacon in our fridge, turned out in fact to be a package of salmon! Salmon on our chicken didn't sound remotely as good as bacon on our chicken, so we switched our game plan…
Instead, we made a straight cider chicken, which involved two boneless, skinless chicken breasts, sauteed onions, and a sauce made from apple cider, chicken stock and a little barbeque sauce. When using chicken stock in gluten-free cooking, you have to be extremely wary. Unless you've made the chicken stock yourself, there's a good chance gluten has made its way into the product. Almost all chicken bouillon, and many chicken stocks, are not safe to eat.
One exception is the Pacific Natural Foods chicken broth. It's organic, free range, low sodium, and gluten-, wheat- and cassein-free. What's more, though you can buy it in large quantities, it's also sold in packages of four 8-ounce servings. We normally like to buy the larger volume of a product in order to decrease the garbage waste from excess packaging that comes with lots of smaller items of the same thing. But in this instance, we go for the four 8-ounce containers. We found that, with the larger size, we would use some of the chicken broth, but then have lots left over that we either had to use right away, or throw out because it went bad. With the smaller sizes, we use one at a time, and the rest stays fresh and good to go until it's needed. No wasted food/broth to throw away, and that's a good thing. So, we highly recommend the Pacific Natural Foods chicken broth.
We complemented our cider chicken with roasted potatoes and zucchini, and voila! Delicious dinner.
– Pete