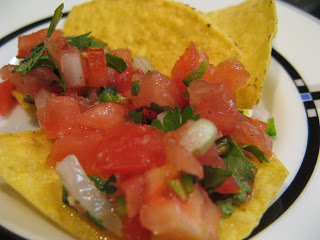 What to do when you have a surplus of ripe tomatoes that are going to go bad if you don't use them? Make salsa, of course! Such was our "predicament" recently, and here's how we made our salsa:
Ingredients
3 vine-ripened tomatoes, diced
1/3 medium onion, chopped
1/2 jalapeno pepper, chopped
1/3 bunch cilantro, rough chopped
lime juice (1/2 lime, freshly squeezed)
salt
pepper
cumin
garlic powder
Steps
Combine the tomato, onion, pepper and cilantro in a medium bowl. Add as many, or as few, of the jalapeno seeds as you like, depending on how spicy you want to make the salsa (a little jalapeno can go a long way…be judicious!).
Add the spices to taste.
Enjoy!
– Pete