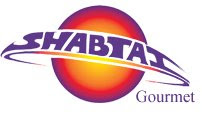 Kelli and I recently received a package in the mail containing a sampling of products from Shabtai Gourmet, a Kosher-certified bakery in Long Island, NY. I got on the phone with Director of Sales Andrew Itzkowitz to learn more about the company's background and its products.
Shabtai Gourmet is a division of Cinderella Sweets, a family-run company with Andrew's mom, Cindy, as the president, and Andrew's dad, Shabtai, as its head baker. Shabtai (the father) began experimenting with gluten-free foods, responding to a need in the Jewish community, particularly during Passover. But what they soon found was that their gluten-free foods were becoming popular with the non-Kosher, non-Jewish crowds as well. According to Andrew, one customer from New Hampshire would buy up to 15 cakes all at once during Passover, and then store them in a dedicated freezer for his wife (who has Celiacs) to eat throughout the year!
To make a long story short, Shabtai Gourmet now makes a line of 16 GF products, ranging from cakes to cookies. They're available year-round in stores throughout the Northeast and Midwest, including the Wegmans grocery store chain, and more recently, 10 Shop Rite stores, including the one in Monroe, NY, near Kiryas Joel. During Passover, you're likely to find them nationwide. Shabtai Gourmet is also very supportive of different Celiac groups, including the National Foundation for Celiac Awareness, and the company regularly sends packages of free samples to different Celiac support groups around the country.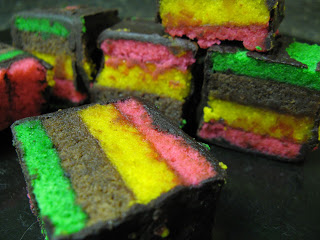 So, you must be wondering, what did Kelli and I think of the treats we tried? Shabtai Gourmet sent us four products out of their line of 16 to try: Rainbow Cookies, Brownie Bites, Ring Ting Cupcakes, and the Rasberry Roll. Before I launch into our assessment, a disclaimer – Kelli and I have high standards when it comes to store-bought, pre-made foods. As you know from some of our previous posts, we're big fans of making things at home from scratch, and we believe that doing so results in a treat that is fresher, tastier, and healthier. But we understand that there will be people for whom that approach doesn't hold the same appeal. In those cases, bakeries like Shabtai Gourmet can be the way to go, and here's what we thought of the treats we tried.
Rainbow Cookies
In a word, these were exceptional. They were moist, with rich flavor and perfect texture. Coming from an Italian family on Long Island, I used to eat Rainbow Cookies like these as a kid, bought from one of the many Italian bakeries that dot every community on the Island. Eating Shabtai's Rainbow Cookies took me right back to those days – they were delicious, and you couldn't tell they were gluten-free.
Alas, there's a bit of a black cloud hanging over these treats and some of the others from Shabtai Gourmet. They're made using partially hydrogenated oils, which is another way of saying trans fat. I won't belabor the details here, but suffice it to say that trans fats are very bad for you…bad enough that earlier this year California took the step of banning the use of trans fats to prepare food in restaurants. I'm happy to report, though, that there's a silver lining to this black cloud. I asked Andrew Itzkowitz if Shabtai Gourmet has plans to phase out the use of trans fats, and he confirmed that they're currently working with a company to develop a suitable Kosher-certified, trans fat free shortening to use in their products. Also, to be fair, it's worth noting that the amount of trans fat in Shabtai's products is low. The FDA guideline permits companies to label a product as having zero trans fat if the content is less than 0.5g per serving, and by that standard, Shabtai's foods pass the test. But those of us who are Celiac or otherwise gluten-free know that there's a decided difference between low something in our food, and no something in our food, and I can take a pretty hard line on these types of issues. 'Nuff said.
Brownie Bites
The Brownie Bites were average. They had good flavor, not great, and a tough, dry texture. For our money, we think you're better off going with our Brownie Recipe.
Ring Ting Cupcakes
The Ring Ting Cupcakes are Shabtai's version of the Hostess Ho Ho. Now, neither Kelli nor I were ever a big fan of Ho Hos in the first place, but we imagine that if you liked Ho Hos in your gluten days, you'd love Ring Tings now that you're gluten-free. Although just a touch on the dry and crumbly side, the texture of the cupcake was still very nice, and the flavor was very good.
Rasberry Roll
The Rasberry Roll scored high marks with both me and Kelli. It's a little on the super-sweet side, but the flavor of the rasberry is great, and pairs very well with the coconut flakes on the outside. The yellow cake that comprises the rest of the roll is deliciously moist. This one is a winner.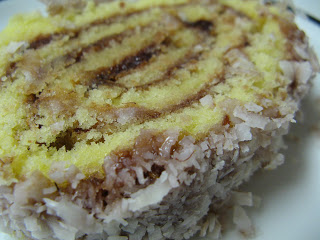 In the end, of the four treats we tried, Shabtai Gourmet offered us a mixed bag – some good or great, some not as much. I'd be curious to try some of their other products, which have received good reviews from customers and other food reviewers. If Shabtai successfully removes the trans fats from its full line of products, I wouldn't hesitate to order a box (or several) of the Rainbow Cookies. I'd also wager that, if you value the convenience and ease of store-bought cakes and cookies, Shabtai Gourmet will be a winner in your kitchen. And just to sweeten the pot, Shabtai is currently offering free shipping on orders sent anywhere within the continental United States. So, if you don't find their products in your local store, they're making it pretty hard to say no to giving them a try.
– Pete
UPDATE 7/15/09: Shabtai Gourmet has been working to remove trans fats, hydrogenated oils, and other "disagreeable" ingredients (see our criticism, above) from its line of baked goods. All of the products haven't made the transition…yet. But it's happening, and we're glad to hear it. Consider it the pot of gold at the end of a Shabtai Rainbow Cookie. =)