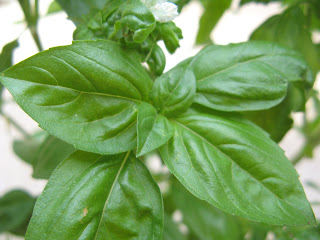 Earlier this summer, Kelli and I bought a basil plant from a local vender at the Boulder Farmer's Market. We've thoroughly enjoyed cooking with the fresh basil, using it on pizzas, tomato salads, you name it! But our plant was growing faster than we were using the leaves, so we did what anyone would do when you're overwhelmed with large quantities of basil – we made pesto!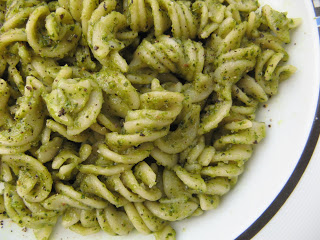 The recipe turned out great. We used Tinkyada brand pasta this time around, which in our opinion is the best GF pasta you can buy at the supermarket. To cook it, boil a pot of salted water and add the appropriate amount of pasta (depending on how many people you're serving, how hungry you are, and whether or not you want leftovers). When the pasta has cooked to your desired tenderness, strain and immediately flush it under cold water to halt the cooking process. This is critical to prevent your GF pasta from turning into GF mush! Set aside and prepare the pesto as follows:
Ingredients:
1 1/4 cups basil leaves
1/4 cup olive oil
2 tbsp Parmesan cheese
1/4 cup walnuts
2 cloves garlic
salt and pepper
Steps:
Blend all ingredients in a food processor until smooth
Mix the pesto with the pasta (you can also heat it up in a pot on the stove, but be careful – too much heat is evil for pesto)
Serve and enjoy!
The pesto also stores well in an airtight container in the freezer. In lieu of walnuts, which is what we had on hand, you can also use pine nuts, which are the traditional pesto nut of choice.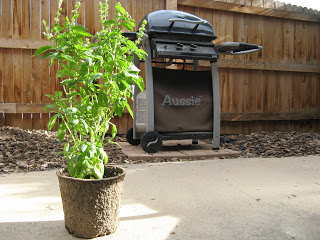 Our basil plant is looking a lot more scrawny post-pesto, but we think it was worth it!
– Pete