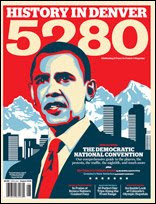 As most everyone in the United States – and much of the world – knows, the Democratic National Convention is being held in Denver, Colorado, right in our own backyard. Last night, Kelli and I attended an invitation-only, VIP DNC viewing party at the Cruise Room Bar and McCormick's Fish House in the Oxford Hotel in downtown Denver. We walked in on a red carpet behind the velvet rope while photographers snapped our picture. Talk about a surreal experience! The party was co-hosted by 5280: Denver's Mile-High Magazine and the National Journal, and I have to say a big word of thanks to 5280 – to which I'm a frequent contributor – for the invite.
Inside, media folks and politicos mingled and chatted until it was time for Hillary Clinton's speech, at which point the crowd hushed and all attention was focused on the many large flat-screen TVs installed throughout the event.
Of course, this is a blog about gluten-free living, so I feel compelled to comment on the food. As you might expect from a swanky party, the food consisted of a wonderful blend of sweet and savory hors d'ouevres, some set out in lavish spreads on tables, others passed by the attentive wait staff. Unfortunately for me, much of the food was off-limits, either because it clearly contained gluten, or because its ingredients or potential for cross-contamination were far from certain. But I did thoroughly enjoy chocolate-dipped strawberries, deliciously sweet and tender crab claws, and shrimp served with a cocktail sauce just teeming with fresh horseradish.
I've been eating gluten-free for long enough, and I feel so healthy and Celiac-symptom-free on the GF diet, that I long ago abandoned any sadness or longing for the foods I once ate but no longer can. I'm perfectly happy to avoid gluten, and I can easily savor the smell of a fresh-baked loaf of bread without feeling compelled to eat a slice. And while none of that sadness or longing returned last night, I did experience just the smallest tinge of jealously. Kelli had a Napoleon – a delicious dessert layered with puff pastry and French butter cream, and one of my favorite desserts in my pre-GF days. It was fresh, the cream silky smooth, the puff pastry perfectly layered and flaky. I took two deep sniffs to experience its aroma, and that was it. Kelli confirmed for me that it tasted as good, or better, than it smelled. But we've made a pact to develop and perfect our own GF Napoleon, and you can be sure that when we do, we'll post the recipe here!
– Pete